Saunders Recorders Used Instrument
&
Clearance List
(All playable at A=440 unless stated otherwise.)
(Illustrations not to scale. Colours approximate, but close.)
As part of my 'winding down' I have stopped buying in used intruments. As a result, this list is now very short. I may still accept instuments in part exchange though, so this page is not dead yet. The links to private sale recorders are still in place.
Overseas readers can find a currency converter by keying 'currency converter' in Google. You can follow this link if you wish. Currency Converter by OANDA.com.
I try as far as possible to offer used instruments which are hardly distinguishable from new. Marked thumb holes are bushed and failing corks and pads are replaced. They are offered with warranty and aftersales service. Please see my care notes. Instruments that I describe as being suitable for ensemble playing do not hold their pitch well with variations in loudness. This is not so much of a fault as it may seem to be at first. Indeed, it can be a real advantage! Such instruments blend well and will easily 'go with the flow'. They are also up to pitch when played softly. I am ambivalent in my approach to the ivory decoration often found on old instruments. I do not consider that it adds to the value (as it did when the instrument was made). Nor do I think it detracts from the value. You must resolve this dilemma yourself. I only refer to it as a 'sleeve' or 'ring' in my description to avoid drawing undue attention it and possibly upsetting a staunch conservationist. I identify plastic where I am sure that this is the material used.
I have produced one of my extended pages, on buying used instruments. You would do well to read it! Click here.
There is also page on the value of used instruments. This page is also relevant if you are wondering about selling a recorder. Click here.
I have decided to expand this page by offering a 'small ads' service for instruments that, for various reasons, I do not want add to my stock. These instruments will be noted below, with links to a new page. The charge for this is £5.00 + VAT (total £6.00 at the moment). Please email me if you wish to avail yourself of this service.
Clearance items now feature at the end of this page.
If you are unsure of the implication of technical terms check my Glossary.
---
USED RECORDERS
These images are not to the same scale.

(That is why the sopraninos look fat and the tenors look thin. The proportions are correct.)
GARKLEIN FLOTLEIN (Garkleinflötlein)
None available at the moment.
---
SOPRANINO RECORDERS
None available at the moment.
---
DESCANT (SOPRANO) RECORDERS
None available at the moment.
---
TREBLE (ALTO) RECORDERS
Moeck 'Rottenburgh' 339 treble (alto) box wood.

I have two of these 339 recorders, nearly identical. Their Moeck serial numbers are very close and they were both originally purchased from Saunders Recorders before I took over. This model has changed over the years. The rings were discontinued, the wood changed and the voicing was revised. Both of these have been played well. The thumb holes are marked but not in a way that I would consider to be 'damage'. I have renewed the top cork on the one illustrated. There were joint issues and I don't think it was original. I will be renewing both corks on the example not illustrated as they are showing signs of coming away. Both come in their original (and undamaged) old style black and green box. They are very nice instruments to play. I have priced them both at £200.00 (each).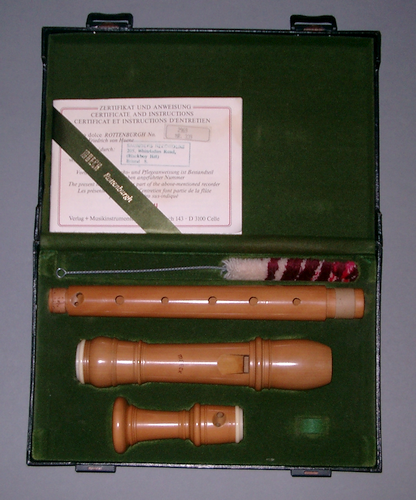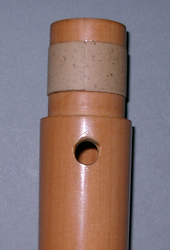 ---
Please see this list for a private sale item.
---
TENOR RECORDERS
None available at the moment.
---
Please see this list for a private sale item.
---
BASS RECORDERS
None available at the moment.
---
GREAT BASS RECORDERS
None available at the moment.
---
These recorders are all acceptably in tune.
---