PayByLink

Remote Card Payment.
Explanatory Notes on its Working.
There are no PayByLink links on this page.
This information is provided for those who have not met this system before. The first comments are general. It is a good system, and secure, but can be frustrating to use. For guidance on entering data to the form please see the centered text further down this page. Changes to the fine detail regarding the data needed take place from time to time and I change the notes on this page as I become aware of them. I can see when problems arise and I will contact you. If you do not regularly buy things over the internet it is not unusual for banks to block a significant international transaction and it needs a phone call from the account holder to clear it.
I respond to orders by generating an invoice which I send to clients as a pdf file attached to my reply email. It carries all the details of the order... goods, services and prices. (If you are unsure what an 'invoice' is, just think of it as a bill.) I will also include a link in my email to the PayByLink page, which carries a reference to the invoice and the payment amount (the 'bottom line' of the invoice). You should now also get direct emails from WorldPay detailing the progress of the transaction... when it is set up and the results of actions. The set up message will arrive before my mail! If these messages do not appear you should check your spam or trash folder. (Or, it could be my fault in copying your email address details... )
The linked page is not an order form. The entry fields all relate to PAYMENT and SECURITY. If information relating to delivery to an address other than the registered address of the card holder is entered the transaction will surely fail. Because I use the same system it is less secure for you to ring me with your card details as they will, inevitably, end up on a piece of paper!
I no longer have a card terminal connected to a phone line. I now have a 'Virtual Terminal' a function of my computer, connected to the internet, through a browser.
Card transactions are conducted over the internet via secured connections.
The 'PayByLink' automated system provides a link to a secure private online payment page. The page is on a secure site maintained by my card services supplier, WorldPay. (The url is to 'mms.cardsaveonlinepaments...'. Cardsave, my original service provider, is now part of WorldPay.)


It is a Payment page that is generated for me by WorldPay when I have entered a reference and other details via my link to WorldPay. (Clients cannot place an order through it.) The page is on the WorldPay server.


My clients (you) enter card payment details via the linked online page. When the transaction is confirmed after pressing the 'Submit' button (almost immediately) I am notified by email by the PayByLink system that payment has been made. If the goods have not already been sent, this is the signal for me to send them. (I am also informed of failed payment attempts.) You will get emailed reports too if you received the link from direct from WorldPay.


If you have an additional security check procedure with your bank you will get another window where you must add your extra authorisation. If you do not do this, or get it wrong, the transaction will time out or fail. If you do not receive a 'Success' report pop up the transaction has failed and no money has moved. (I do not get notified, but I can see a record of timed out procedures when I look at the PayByLink log. They may take a day to arrive.)


Just as when you pay by card over the phone to an automated service, the system issues an 'AuthCode' number that you may like to note. You can print this page but it is not recoverable if you navigate away from it. WorldPay do not produce a 'printer friendly' pop up. I will print a card transaction receipt to send with the goods and I can email a card transaction receipt (for a transaction less than a year old) in pdf format at any time if you request it. I store all confirmation email from Worldpay, there is no time limit on these so long as I do not suffer a computer disaster.


An 'AVS policy' failure is usually down to unmatched address info. Try leaving those fields blank, they are optional. If you are not in the UK leave the 'Post Code' field empty. (Do not enter an all digit 'zip code'.) MasterCard tends to give AVS trouble with overseas clients. Please contact me if your transaction gets declined. I am able to see which fields caused trouble and there are ways that I can enable the transaction without your having to give me full card details. Red boxes and crosses show omissions. Green ticks are a distraction and indicate nothing of any consequence. No data is checked until the form is submitted. (Don't blame me, I didn't write the software!)


If you should get a page with a red box and a message similar to this, "ERROR 2348 Invalid PaymentLinkUID", please try again before contacting me. It happens only rarely and may be because of data corruption.


---
SUMMARY
I instruct the PayByLink system to create the page with details of the transaction and it emails the link to me. I copy the link into my emailed reply to my client (you). The system will also email the link direct to my client (you). The response that appears on your screen is not recoverable. If you regard them as important they can be captured with a PrintScreen utility. (The 'Snipping Tool' that is part of Win7 (and later) accessories, or 'Purrint'.)
I provide the link when an order has been made and there is a known amount to pay! I will have provided a reference (usually an invoice number and name, but sometimes the account number, and name) brief details of the goods and services to be supplied and the amount to be paid. I usually remember to check the box for 'one shot payment' that prevents paying twice but does not prevent multiple attempts after failures. Its is crucial that email contact is maintained. Without it the link will not arrive. Do not change the subject line or your mail account when you make a firm order following an enquiry. Please take steps to ensure that mail from me does not get deleted as 'spam' or 'junk'. Check these folders if a problem arises. There can be difficulties with 'borrowed' email facilities.
---
It is no longer necessary to settle invoices by sending card payment details to me. Accounts can also be credited by card payment using the same system. (Please note that the 'Account Number' that I refer to above is my client's account number with me and has nothing to do with direct bank to bank credit transfers (BACS or FPS). My bank details for this type of transaction are now on my invoices. If you do internet banking and trust me, this is an easier procedure.)
Phoned orders can be processed as before if desired, and I am given card details, but the paperwork will be different. I will offer the option of paying via the internet as above.
I am able to recover and use payment information from transactions performed in the previous 12 months if the card is still valid. This information is stored on the WorldPay server, not on my computer. I do not see full payment details. Returning clients who have paid via PayByLink in the previous 12 months will be probably charged as before unless they have informed me of another preference.
Visitors are be able to pay by card. I am able to enter the details via the secure web link.
---
The IMAGE below is that of the page you will be taken to.
It is NOT active.
I have provided it solely for the purpose of information
so that you may be prepared to fill in the boxes.
If you make any mistake the transaction will fail
but you can try again.
When the transaction has been processed just close your browser or navigate away.

DO NOT USE THE 'ENTER' (carriage return) KEY.
(It will submit the form, finished or not!)
NAVIGATE WITH YOUR MOUSE OR 'Tab' KEY

Only the starred boxes are obligatory.

Green ticks have no significance! Red crosses indicate missing data. No data is checked until the form is submitted.
Type the cardholder's name into the 'Name on Card' box.

The first line of the address is important. Do not enter your name. It may cause the transaction to fail.
Only enter your postcode in the box provided.
If you enter a UK address your UK postcode is required.
If in doubt leave all the address boxes empty.
If you have trouble, clear all the un-starred boxes.

However, some card issuers do require these fields. Take great care when filling them in!
The Security Code (CV2) is the three digit number on the signature strip of your card.
I only get to see the name, and address details if you complete them,
incomplete card info, and your ip address!
I will have entered the amount and the 'Order ID' (invoice number plus surname and initial).
The 'Order Description' will be for Recorder, Recorder Music, or something similar and relevant.
DO NOT IGNORE OR CLEAR A BANKING SECURITY WINDOW.
If one appears and you do not fill in the details required the transaction will 'time out' with no response or email.
This can be confusing but no money will have moved.
I will, eventually, be able to see a report on my 'control panel'.
If you are unable to provide the information you should contact your bank (by phone).
Please contact me for help in sorting things out.
This is an old image, the current one is similar in essential detail, but much longer.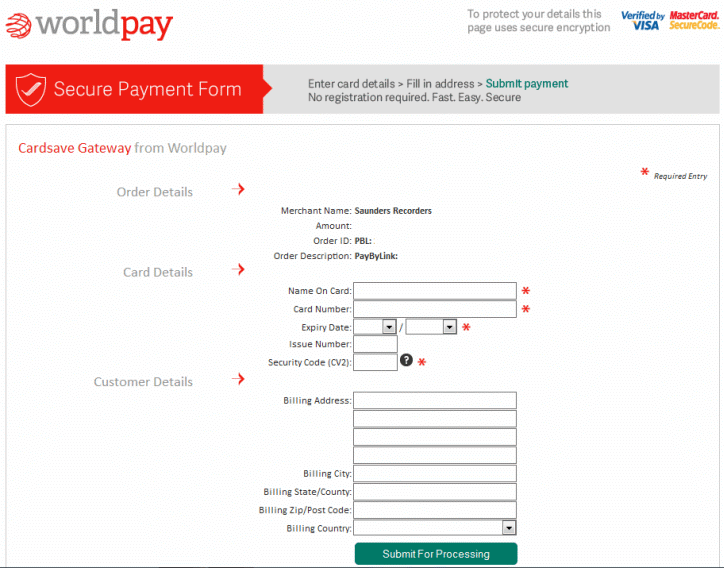 There is no 'shopping cart' on my site. I prefer to maintain the strong element of personal contact I have with my clients. Most people want advice or reassurance in the selection of recorders and music and I will continue to be able to provide this when it is requested. Please note that you can get a good idea of my stock situation from this file. As before, orders can be placed by email or phone, but payment will be much easier.