A Recorder Mute
that you can
Make for Yourself.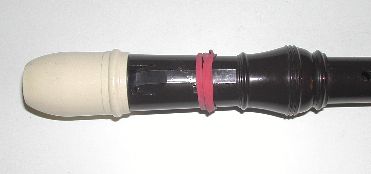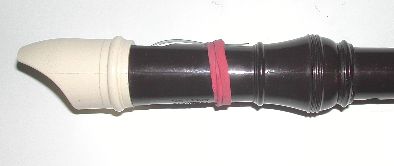 After some experimentation I have devised this 'modern' alternative to Carl Dolmetsch's bent cardboard. It stays in place, is easier to use and is more durable.
The 'mute' is a strip cut from some thermoplastic packaging (from a 'blister pack'). It is slightly narrower than the windway opening (so that some sound is produced) and it is held by a rubber band (no prizes for guessing where I found that!). The top end is cut square and is lodged low down against the end of the block. With a little care there is no need for it ever to touch the delicate labium edge.
It is easy to move the mute away, out of the window so that it rests above the window and has no effect. You can judge well how mine works by clicking the player below.
or right clicking this link:-DOWNLOAD
It is inevitable that both the tone and intonation suffer. The size of the window opening has been reduced by the mute and that lowers the pitch. You will be very lucky to play above upper A (on the descant).