Saunders Recorders
A Bass Pipe from Plumbing Parts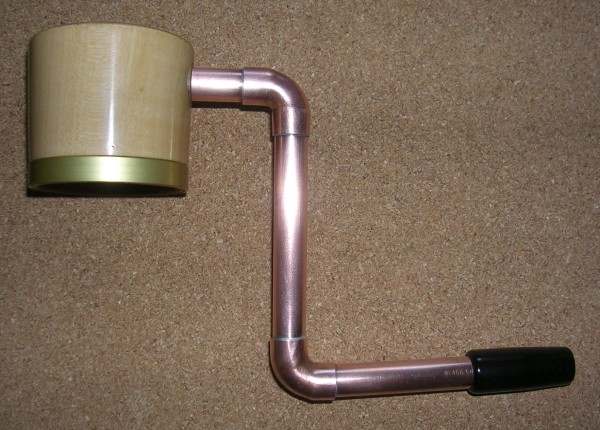 It is not too difficult to make one of these for an old Moeck 'Tuju' bass. The usual plumbing tools, blow torch, etc. are all that are needed. You should use lead free solder. The pipe is a perfect fit. (It may even be possible to glue the parts together with epoxy or 'Gorilla' glue.)
If you need something like this and do not want to make it yourself I can make it for you. I have parts on the shelf. The cost would be about £15.00, plus postage.
It took me longer to find the 12mm parts than it did to assemble them!
12mm tube is not a common size (understatement!). I think it is a 'gas' size not a 'water' size. As gas fitting is closely regulated it is not at all easy to get the bits. I was able to buy 12mm copper pipe from Stevenson Plumbing and Electrical Supplies in 12 inch lengths (only). Excellent and very quick service.
The 12mm. elbows had to come from a different source, rjwplumbingsuppliesandbuildingsupplies. Good service.
For 10mm pipes, 10mm brass tube is available from most model shops ('Albion Alloys' brand.) and 10mm copper elbows are available from most of the usual plumbing suppliers and builders' merchants. They are used with 10mm central heating systems. The 10mm copper tube is not very suitable for a bass recorder as it is rather soft (and comes in large coils).
Non-standard sizes of bass pipe fitting can be accommodated by lapping a small pipe with cork. (Or lining the fitting socket with cork.) I could do this for you if necessary.